About Us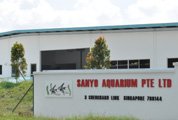 Sanyo Aquarium is one of Singapore's leading exporter of ornamental freshwater fish, ornamental marine fish & invertebrates, aquatic plants & potted plants. With a history of over 37 years, we have a proven track record in consistently delivering high quality fishes and plants to our customers in shortest time possible, and at competitive price. We are also a member of the Ornamental Fish International (OFI), Singapore Aquarium Fish Exporters' Association (SAFEA), and have actively participated in the Accredited Ornamental Fish Exported Scheme which is certified by the Agri-food & Veterinary Authority of Singapore (AVA).


We have satisfied customers who have been buying from us for over 35 years. Most of them are from countries such as United Kingdom, France, Germany, Japan, Australia, Netherlands, Sweden, Kuwait, Cyprus, Cairo, New Zealand, French Polynesia, etc.
Our Qualities
As a major exporter, we are able to fulfill orders of varying types of fishes or plants and of varying quantities. We have instituted quality controls and quarantine techniques that meet the most stringent import requirements of the destination countries.
These quality control processes include:
Visual checks on all fishes from our suppliers
Reject fishes that do not meet ours and customers' quality standards
Imported fishes are kept in quarantine for 2 weeks in our quarantine areas (There are over 600 holding tanks in our quarantine house)
Fishes are fed with high quality feed and treatment during the quarantine period
Conditioning the fishes using our in-house treatment on the shipment day prior to packing for export
Automated packing technology and sealing machines to ensure that the fishes reached the customers in optimum condition
Our main products and services are:
Export of local freshwater fishes including Platies, Swordtails, Angels, Guppies, Colisa, Mollies etc.
Export of imported fishes from Indonesia, Malaysia, Thailand etc.
24-hrs customer support
Our Assurance
Top quality fishes and reliable service
Competitive pricing and freight costs
Availability of new and high-demand species
Continual improvements to our quality controls and services